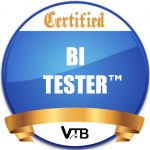 Certified BI Tester course gives an overview of how business intelligence technologies can support decision making across any number of business sectors. These technologies have had a profound impact on corporate strategy, performance, and competitiveness and broadly encompass decision support systems, business intelligence systems, and visual analytics. Modules are organized around the business intelligence concepts, tools, and applications, and the use of data warehouse for business reporting and online analytical processing, for creating visualizations and dashboards, and for business performance management and descriptive analytics.
Certified BI Tester is designed for:
Testers of any level who are or will be working on Business Intelligence Testing.
Business Analyst wanting to improve their knowledge of Business Intelligence Testing.
Testers seeking a general understanding of BI testing.
There are no prerequisites for this BI Tester certification training course, so everyone is able to attend. There is no pre-course reading.
1. Introduction to Business Intelligence
1.1 What is Business Intelligence?
1.2 Business Intelligence testing
1.3 Business Intelligence testing sequence
1.4 Strategy of Business Intelligence testing
1.5 Sample Test Cases
2. Business Process Testing (BPT)
1.1 What is BPT?
1.2 Approach of BPT
1.3 Key concepts in BPT
1.4 How does BPT?
1.5 Role of BPT
1.6 Methodology of BPT
1.7 Implementation of BPT
3. ETL Testing in Business Intelligence
3.1 What is ETL and Data Warehouse Testing?
3.2 ETL Testing Process
3.3 Types of ETL Testing
3.4 ETL Testng Techniques
3.5 ETL Test Cases and Scenarios
3.6 Performance Testing in ETL
3.7 Best Practices for ETL Testing
Participants need to sit the Certified BI Tester Exam order to acquire the certification. The exam format is outlined below:
40 questions
Multiple choice
Closed book
Duration : 1 Hour (1 Hour + 15 Minutes for participants whose first language is not English) 
Participants need to achieve 65% in order to pass the examination