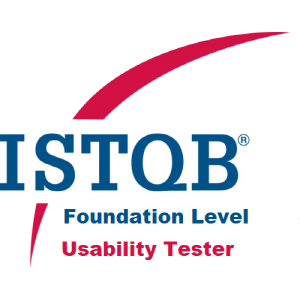 ISTQB FOUNDATION – USABILITY TESTER certificate offers an introduction to the fundamentals of Software Usability Testing.  Usability is the extent to which a software product can be used by specified users to achieve specified goals with effectiveness, efficiency and satisfaction in a specified context of use [ISO 9241-210].Usability testers should be aware that other definitions may be used in organizations
Understand the basic concepts of usability and usability testing.

Identify and classify the severity of usability risks and potential accessibility violations in a given product at any stage of a development cycle.

Cite relevant standards for usability, user experience, and accessibility and verify their implementation in a given product.

Set up procedures so that stated usability, user experience and accessibility goals may be verified in practice for a given product.

Design and monitor the implementation of a test plan for achieving stated usability, user experience and accessibility goals.

Explain the rationale, process and results of usability, user experience and accessibility evaluations to non-specialist stakeholders.
Participants must have a  ISTQB Foundation Certified Tester certification to sit the exam
1. Basic Concepts
1.1 Fundamentals
1.1.1 Usability
1.1.2 User Experience Concepts
1.1.3 Accessibility
1.2 Evaluating Usability, User Experience and Accessibility
1.2.1 Usability Evaluation
1.2.2 User Experience Evaluation
1.2.3 Accessibility Evaluation
1.3 Usability Evaluation in Human-Centered Design
1.3.1 Usability Requirements
1.3.2 Agile Usability Evaluation
2. Risks in Usability, User Experience and Accessibility
2.1 Introduction.
2.2 Typical Risks
2.2.1 Usability Risks
2.2.2 User Experience Risks
2.2.3 Accessibility Risks
2.2.4 Project Risks
3. Usability and Accessibility Standards
3.1 Usability Standards and Manufacturer Guidelines
3.1.1 ISO Usability Standards
3.1.2 Manufacturer Guidelines
3.2 Accessibility Standards
3.2.1 ISO Standards
3.2.2 The Web Content Accessibility Guidelines (WCAG)
3.2.3 Accessibility Legislation
4. Usability Reviews
4.1 Introduction and Approach
4.1.1 Step-By-Step Approach to Usability Reviews
4.1.2 Risks and Challenges
4.2 Types of Usability Review
4.2.1 Informal Usability Review
4.2.2 Expert Usability Review
4.2.3 Heuristic Evaluation
5. Usability Testing
5.1 Introduction
5.2 Step-By-Step Approach to Usability Testing
5.3 Prepare Usability Test
5.3.1 Usability Test Plan
5.3.2 Usability Test Script
5.3.3 Usability Test Tasks
5.3.4 Test Location
5.3.5 Usability Test Lab
5.3.6 Pilot Usability Test Session
5.4 Conduct Usability Test Sessions
5.5 Analysis of Findings
5.6 Communicate Results and Findings
5.6.1 Results
5.6.2 Usability Findings
5.6.3 Selling Findings to Stakeholders
5.6.4 Usability Test Report
5.6.5 Best Practices in Usability Test Reporting
5.7 Quality Control of a Usability Test
5.8 Challenges and Frequent Mistakes
6. User Surveys
6.1 Introduction
6.2 Step-By-Step Approach to User Surveys
6.3 Standardized Questionnaires
7. Selecting Appropriate Methods
7.1 Criteria for Selecting a Method
7.1.1 Selecting a Usability Evaluation Method
7.1.2 Selecting a User Experience Evaluation Method
7.1.3 Selecting an Accessibility Evaluation Method
8. Summary of Roles and Responsibilities
8.1 Usability Tester
8.2 Moderator and Note-Taker
The Foundation Level Usability Testing exam is comprised of 40 multiple-choice questions, with a pass mark grade of 65% to be completed within 60 minutes. Participants that take the exam not in their spoken language, will receive additional 25% time, and will have 15 minutes more, or a total of 75 min.