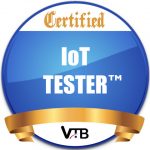 IoT testing is a type of testing to check IoT devices. Today there is increasing need to deliver better and faster services. There is a huge demand to access, create, use and share data from any device. The thrust is to provide greater insight and control, over various interconnected IoT devices. Hence, IoT testing framework is important.
Certified IoT Tester course is for a tester who want to develop their testing skills in the test automation for an Internet of Things project. This course will teach you details about what is IoT testing, How it works, examples, how to test IoT applications and future opportunities. This course will also teach you about IoT testing tools and its best practices for effective IoT testing.
Certified IoT Tester is designed for:
Testers of any level who are or will be working on IoT project.
Testers wanting to improve their knowledge of testing an IoT testing.
Testers seeking a general understanding of IoT testing.
There are no prerequisites for this IoT Tester certification training course, so everyone is able to attend. There is no pre-course reading.
1. Introduction to IoT
1.1 What is Internet of Things
1.2 Technology used in IoT
1.3 IoT Devices
1.4 IoT Types
1.5 IoT industry application examples
2. IoT Testing
2.1 What is IoT testing?
2.2 Types of Testing in IoT
2.3 IoT Testing Process
2.4 Connection between IoT and DevOps
3. DevOps for IoT Methods, Technologies, and Tools
3.1 Continouse Integration and Continuous Deployment
3.2 Support for Cross-Funcationality
3.3 IoT Testing Tools
3.4 Best practices for effective IoT testing
3.5 IoT Testing Challenges
Participants need to sit the IoT Tester Exam order to acquire the certification. The exam format is outlined below:
40 questions
Multiple choice
Closed book
Duration : 1 Hour (1 Hour + 15 Minutes for participants whose first language is not English) 
Participants need to achieve 65% in order to pass the examination