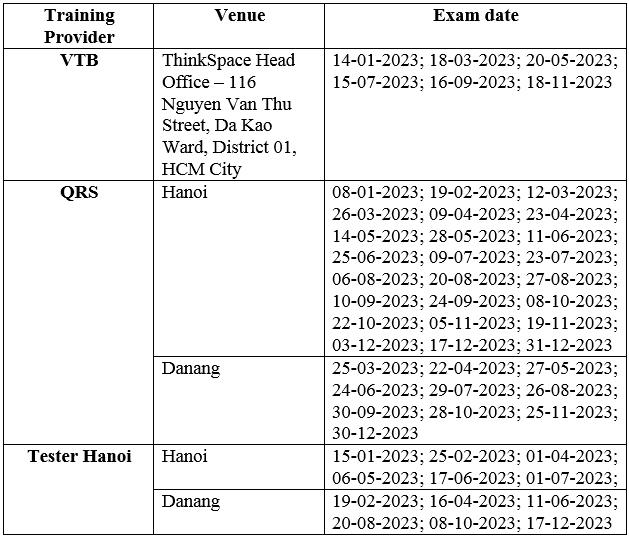 Please contact to our accredited training and exam providers
VTB Accredited Training Providers offer courses and exams that will help prepare you for the ISTQB Certification exam.
See the list of VTB Accredited Training Providers page. This option is eligible for discounts through VTB's Volume Purchase Program.
Name
Contact

Hanoi Tester Training Center

3 Floor, 110 Nguyen Ngoc Nai,Hanoi, Vietnam

0994016879

QUALITY RESOURCES & SOLUTIONS

Floor 2, 3, no. 26, Alley 2, Lane 76, Duy Tan Street,
Cau Giay Ward, Hanoi, Vietnam

036 858 58 95

098 677 5464
Other Cities
Organizer: VTB
Venue: Floor 14, 412 Nguyen Thi Minh Khai Street, Ward 5, District 03, Ho Chi Minh City.
Time: 09:00~11:00
Date: Monthly
Contact : [email protected]
EXAM FEE
All ISTQB Foundation Level exam is 3,000,000 Vietnam Dong
Each of the ISTQB Advanced Level exams is 4,000,000 Vietnam Dong
Each of the Expert Level exams is 6,000,000 Vietnam Dong
All VTB Foundation Level exam is 3,000,000 Vietnam Dong
All VTB Advanced Level exams is 4,000,000 Vietnam Dong
Note that VTB recommends that you prepare for the ISTQB exam by utilizing an VTB-accredited training provider or by using self-study materials such as the ISTQB syllabi and glossary. We cannot confirm the accuracy or authenticity of other, non-accredited online test preparation sites or materials. You may also find these software testing books and publications to be useful.
EXAM REGISTRATION RULE
Via an Exam Center
More Details and Instructions
If you wish to take a Foundation Level exam, There will be no prior process required.
If you wish to take a Foundation Level Extension, you need to contact VTB office at [email protected] so we can verify the CTFL certification and then allow access to the Agile exam. Send us your name as it appears on your VTB CTFL certificate. (If your CTFL is not from VTB, then you must send a copy of your CTFL certificate.
If you wish to take an Advanced Level exam, you must first submit proof of CTFL certification and a resume and/or employer verification of 3 years experience to inf[email protected]. In the cover email, the examinee must state that the information contained in the resume or employer verification is accurate and complete to the best of his/her ability.
Once we receive your documentation, you will receive an email that your qualification has been accepted. If you have already qualified for Advanced Level exams, email info@ [email protected] with a request to access the Advanced Level exam.
There is a 1,000,000 Vietnam Dong fee for a reschedule or cancellation within 72 hours of your exam. To reschedule or cancel your exam, you need to contact to info@ [email protected]
Onsite at Your Company
If you have twenty or more examinees for the Foundation, Agile, Advanced or Expert Level exams, or any combination to be administered at the same time, you may have VTB come to your site to administer the exam. To learn more, contact VTB headquarters at [email protected]. This option is eligible for discounts through VTB's Volume Purchase Program.
At Your College or University
VTB offers a 30% discount on the exam fee to institutions of higher education that teach the ISTQB software tester certification syllabus and glossary and wish to certify their students as CTFLs. By participating, the instructor agrees to secure an unpaid Proctor and administer the certification exam.
For further information, instructors should contact VTB Headquarters at [email protected] .
In order to register for the exam, please fill the below form and send to [email protected]
Full Name: * (as to appear on your certificate)
Email: *
Date of Birth: *
Contact Number: *
Company Name:
Street Address: *
Suburb: *
City/Town:
State/Province:
Postcode: *
Country: *
Product: *
Exam Location: *
Exam Date:
I have a disability and would like VTB to contact me: Yes No
Payment Option: * Credit Card Internet Banking
No payment required (voucher holder)
Certificate and Logo Usage Agreement *
I agree that as a holder of the requested certificate I shall:
a) Comply with the relevant provisions of the certification;
b) Make claims regarding certification only with respect to the scope for which certification has been granted;
c) Not use the certification in such a manner as to bring the board into disrepute, and not to make any statement regarding the certification which the member board may consider misleading or unauthorised;
d) Discontinue the use of all claims to certification that contains any reference to the member board or certification upon suspension or withdrawal of certification, and to return any certificates issued by the member board; and
e) Not use the certificate in a misleading manner.
AFTER PASS THE EXAM
You name will be published on ISTQB Website. If you wish to publish, please fill out the form of ISTQB Successful Candidate Register (SCR) Consent Form at ISTQB_SCR_Consent_form(VTB) Print, sign and email the form to [email protected]