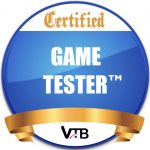 Certified Game Tester course is for a tester who want to develop their testing skills in Game development project. This course will provide you with the fundamental knowledge to Game Development Lifecycle, adaptive technology and key risks in Game Testing. You will be understanding the key concept and methods of Game testing. you will also learn the detailed metrics of Game Testing with DAU/MAU, Session, Retention, and Performance metrics
Certified Game Tester is designed for:
Testers of any level who are or will be working on Game development project.
Testers wanting to improve their testing knowledge in Game development project.
Testers seeking a general understanding of Game Development.
There are no prerequisites for this Game Tester certification training course, so everyone is able to attend. There is no pre-course reading.
1. Introduction to Game Testing
1.1 Pre-production in Game Development Lifecycle
1.2 Production in Game Development Lifecycle
1.3 Post-production in Game Development Lifecycle
1.4 Game Testing
1.5 Assistive Gaming using adaptive technology
1.6 Key Risks in Game Testing
2. Types of Game Testing
2.1 Functional Testing
2.2 Compatibility Testing
2.3 Performance Testing
2.4 Conformance and Compliance Testing
2.5 Localization Testing
2.6 Soak Testing
2.7 Recovery Testing
2.8 Security Testing
2.9 White-box Testing
2.10 Other Testing
3. Metrics in Game Testing
3.1 DAU and MAU
3.2 Session
3.3 Download Rank
3.4 Retention
3.5 Performance Metrics
Participants need to sit the Certified Game Tester exam order to acquire the certification. The exam format is outlined below:
40 questions
Multiple choice
Closed book
Duration : 1 Hour (1 Hour + 15 Minutes for participants whose first language is not English) 
Participants need to achieve 65% in order to pass the examination